Marijuana grow forums present a reliable source of weed growing information. Nobody beats an enthusiastic amateur at soaking information. The forums, ever fresh with new content— mostly in the question-answer format equip you with quick solutions to your cannabis growing problems. Here are ten best marijuana grow forums in 2020:
Rollitup is one of the busiest grow forums that you can follow to soak in valuable growing information. With over 800,000 followers, the flow of information on the forum is ceaseless— every minute, a question pops up, and an answer follows right back.
The issues discussed here are far and wide. From outdoor growing, indoor growing, hydroponics growing, organics, and potential plant issues, this forum can make an expert out of a novice grower. It also helps that the discussions are grouped into varied sections like; Marijuana News & Discussions, Medical Marijuana, and the Grow Room, making it easier to navigate the forum and get what you need quickly.
The THCFarmer is a robust forum with close to 80,000 active members. The forum goes in-depth on cultivation techniques for medical-grade cannabis. Its tagline reads "cannabis cultivation network," hence describing its key priority. Other than cultivation, you will also find worthy discussions on cannabis culture and lifestyle.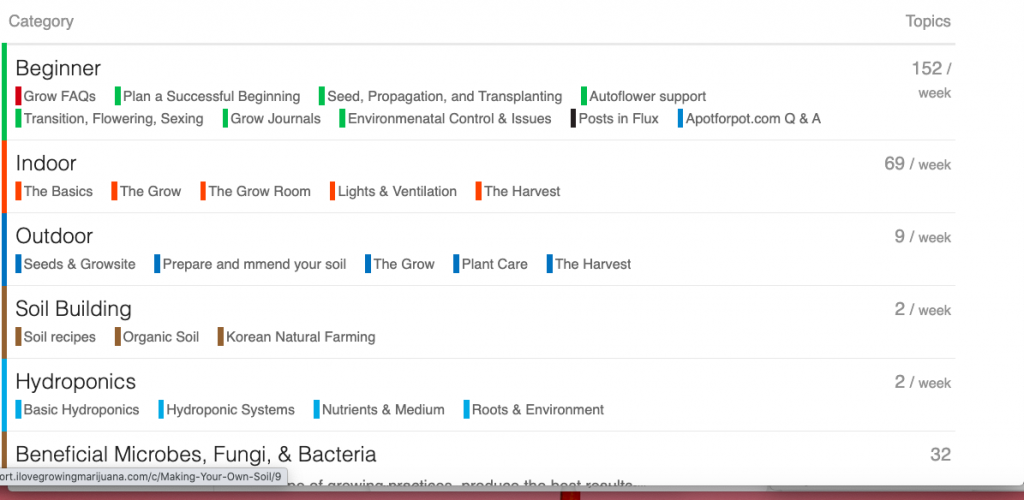 This forum is a support page of the I Love Growing Marijuana site. It's a place where individuals get solutions to some issues they experience with their marijuana growing experience. The forum is run by a reputable site with a big-name grower, Robert Bergman behind it.  The forum has various posts and topics that range from beginner categories, outdoor/indoor, and more specific topics. In short, I Love Growing Marijuana is an online forum that will help you have a successful marijuana growing experience.
Known as International Cannagraphic Magazine, IC Mag offers a forum for growing cannabis that is worth visiting. You'll benefit from the many members with in-depth cannabis-growing knowledge. This makes it a vibrant and active community of individuals interested in cannabis. Since it's a magazine that has vendors, there is a forum topic known as "IC Mag Vendor Forums" that assists seed banks and other vendors to connect with their audience and share information and updates.
This forum is one of the longest-serving grow forums. Though not as busy as other forums in this list, the topics on cultivation are in-depth, and over time, you get to know the contributors more closely. The forum covers more than growing, delving deeply into the cannabis lifestyle, concentrates, medical cannabis, and networking.
This is one of the most active marijuana grows forums that has over 10,000 users. The audience might seem small, but it is a pretty active forum— members are always asking questions and experienced growers troubleshooting, making it a great forum to learn growing at any level— amateur or expert.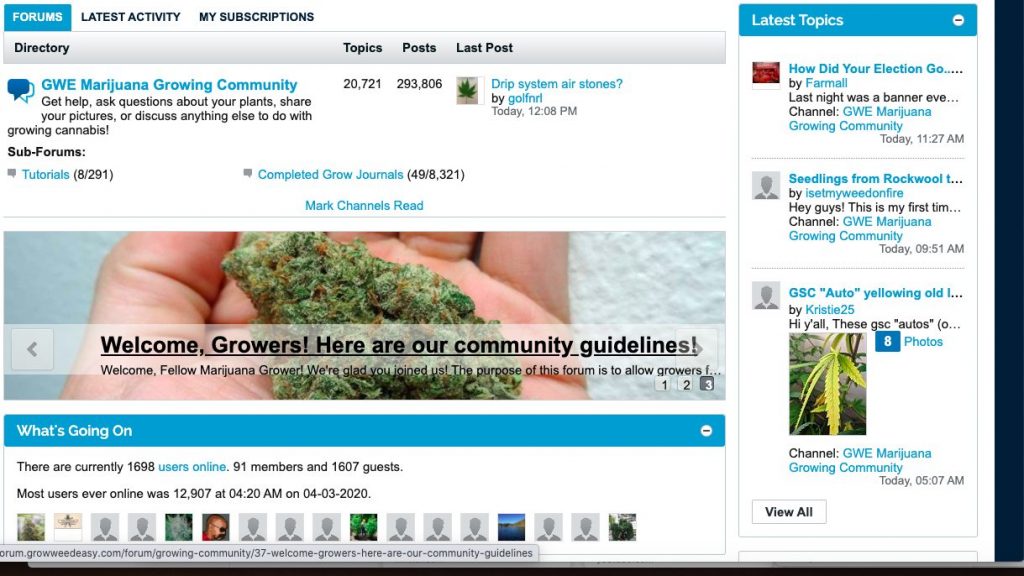 The Open Grow forum is filled with all the information you need about Marijuana cultivation. If you've had a question boggling your mind, it has been answered on this forum probably. You will find basic cannabis growing resources like beginner guides, grow room ideas, indoor growing information, lighting, et cetera.
What I love most about the site is that it also has serious, science-based discourses like tests, interviews, making it a source of reputable information. Through the forum, suppliers can give samples to the forum members to test, allowing both parties to benefit from the exchange.
This forum is one is of the most extensive on the matters of cultivation. It is more of a growing guide turned into a forum; rarely do you miss what you're looking for in this forum. Covering grow topics from genetics to breeding to everyday troubleshooting, there is more than one way to benefit from this forum.
You can get a lot of information by simply searching the forum, no need to indulge in chats. Still, having over 20,000 members and close to 150,000 posts makes it a modest, not a small resource for enthusiastic growers.
Strain Hunters is an exciting forum since it's about getting the best strains. The hunters are physically visiting different places, searching for the best strains. Forum members can suggest where they want the hunters to visit next. There are numerous subjects about medical strains, extraction techniques, marijuana growing, and seed testing.
If you're passionate about growing cannabis and would love a forum that meets your knowledge needs, then this forum is for you. It covers a wide array of weed growing questions that both a beginner and an advanced grower will find useful. It also has a "Bud of the Month" section at the top of the page that highlights different strains that do well. From plant health issues to lighting, the forum is rich in all the information a grower needs to thrive.
Many cannabis forums pop up on different corners of the internet. This points out to the general upsurge in the desire to grow weed at home instead of buying from the dispensaries. However, if you need forums that give practical advice on growing weed, then look no further; the forums above will illuminate your cannabis-growing path.