Growing cannabis is not all fun and sunshine. Sometimes you fumble, but you need strains that might heal and pick up the growth and give a good yield. As a beginner, you need strains that give you room for a few errors, strains that are resistant to little deprivations, not prone to mold, resistant to pests, and can forgive climatic control flaws. Here are the easiest cannabis strains to grow for beginners:
This strain isn't only one of the most loved around the world; it's also one of the easiest to grow. That's a double delight in potent buds. Blue Dream is so grower friendly that you can get away with a few mishaps. It is resistant to mold, mildew, and root rot, which affect most cannabis strains.
Blue Dream isn't famous for no reason; it is a Sativa heavy strain that will fill you with physical energy while relaxing your mind. It's high is a little euphoric, with a tinge of happiness.
Blue Dream a hybrid of Sativa and Indica in the percentages 60% and 40% respectively. The strain is a cross between DJ Short's Blueberry and Santa Cruz Haze. Apart from its balance of active and chilling high, Blue Dream is also loved for its sweet berry scent.
What is Blue Dream good for?
Here's how the hazy, cerebral Blue Dream strain became a mainstay on cannabis dispensary menus across the country 💙🌀💙🌀💙 https://t.co/WerrGpKjL4

— MERRY JANE (@MERRYJANE) July 7, 2020
First, as a novice grower, you don't want to hassle for hard-to-find strains even if they promise huge buds. Blue Dream seeds and clones are easy to find and are pretty resistant to environmental flaws.
Blue Dream is known for its higher THC content, which makes it a great strain to stone and chill. But it is also good for mild joint pains, depression, and nausea.
This strain is also high-yielding; you can get up to 500g/m2 when growing indoors and between 2-3kg per plant.
The Northern Lights is an Indica heavy strain that is responsible for the genetics of many newer cannabis strains. This strain is bred by crossing original NL-1, NL-2, and NL-5 genetics. The strain was first bred by Sensi Seeds and still is one of their best breeds.
The Indica heavy strain is a pace-setter for other strains; it grows faster, it flowers faster, and its yield is dense and resin-filled. It gives strong effects, even for seasoned stoners, Northern Lights can give you the knockout punch.  It is also resistant to mold, powdery mildew, and slight flaws in climatic controls.
What does Northern Lights strain smell like?
Marijuana is loved and hated for the smell. While various strains elicit different scents, you want to be sure of the aroma you're getting before growing it.  
Like most cannabis strains, the Northern Light elicits the generic marijuana plant smell when growing. When dried and treated, the buds retain an earthy aroma that leaves a whiff of fruity scent.
What is Northern Lights good for?
This strain is rich in resinous buds, and give a relaxing effect that Indica-dominant strains are known for. Due to its calm high, it has been used for different purposes.
The Northern Lights strain is widely for anxiety, insomnia, pain, and depression. It is especially good for insomnia. With its calming effect, it is a strain you'll enjoy smoking in the evening as you reflect on how your day has been.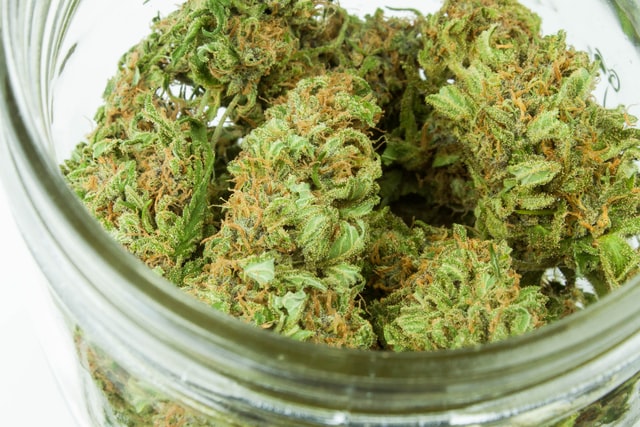 This Sativa heavy strain has its roots in California where it was initially known as Green Kush. Due to its lasting uplifting effects, only rivaled by crack, its name changed to Green Crack. Legend has it that Snoop Dogg tried it, and he was amazed by its high that he named it Green Crack. The strain is a hybrid of 75% Sativa and 35% Indica.
Apart from its uplifting effects, the strain elicits a citrus aroma that hits your nose when you open its jar. Its high Sativa content gives it an energetic high. You can get stoned and still have the push to work.
Green Crack strain takes between 7-9 weeks to flower, which is great for Sativa strains, and it's also high-yielding— you can get up to 18 ounces per squire meter. Still, its resistance to grow factors make it an excellent choice for novice growers.
This strain isn't called Easy Bud for no reason; it's easy to grow. You will find it easy to grow even in most limiting spaces as it only grows 60cms tall and is ready for harvest at 9 weeks after germinating the seeds.
Easy Bud is a cross between an auto-flowering Ruderalis and White Indica. Though it is Indica heavy, it has THC content of up to 12% and will give you euphoric, mellow high.
If you want to have an easy-go at your first growing cycle, the Easy Bud strain should be an easy pick.
The Gorilla Glue #4, widely known as GG4, is a potent hybrid that gives you 50/50 on both Sativa and Indica. Its parents are no lesser strains; Sour Dubb, Chocolate Diesel, and Chem's Sister are uniquely potent on their own, and their baby had to be a multi-Cannabis Cup Winner.
With a THC high of 25%, it will give you an intense euphoric high with a relaxing effect. When you want silent moments to reflect, this strain will serve you well. You smoke it and realize that this sticky bud is winning for all the right reasons.  
This strain is particularly easy to grow because it doesn't need much of additional nutrients— giving room for the errors of growing for the first time.
It is also bushy, making it ideal for growing within small spaces. It takes between 8-9 weeks to flower and produces between 21 ounces per plant.
This strain comes in an equal balance of Sativa and Indica. The strain, though not high-yielding, is rich in THC content that makes it a favorite among novices and seasoned growers.
This is my baby. Royal Gorilla para todos. DM. pic.twitter.com/N0vVui2ccj

— GirlGreenFarm (@GirlGreenFarm) July 2, 2020
Just like GG4, Royal Gorilla is made from Chem's Sister, Chocolate Diesel, and Sour Dubb. It takes between 9-10 weeks to flower and yield up to 600 grams per plant when grown indoors.
This strain, with its roots in Amsterdam, features in our list for easy to grow strains because it needs little attention when grown indoors. The strain is high in Indica, up to 80%, and gives euphoric high, thanks to its high THC content.
Due to its longer-lasting euphoric high, it is one of the most common strains in the Pacific Northwest. If you won't love it for its high, you will fall for its sweet, candy-like aroma.
There are many strains that you can grow, and each strain comes with pros and cons. One tip that seasoned growers dish out, almost generously, is that when you're beginning, you should focus on the easiest to grow strains. It helps, you know, you don't want to lose money and effort chasing the promise of big buds when you haven't nurtured your green thumb.